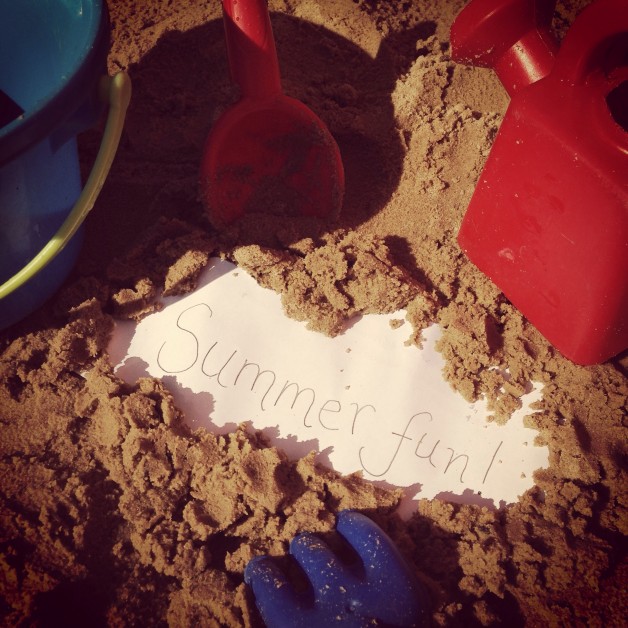 It's here! It's finally here! The summer and all it's long days of fun in the sun, but wait! How are you going to fill this summer of awesome?
Fear not my lovelies! Here I share with you my…
Top ten ten truly terrific summer fun activities!
1. Ice painting
Arty fun in the sun? Yes please!
Chill this summer with this funtastic painting activity with homemade ice-paints! Great fun and great for keeping cool this summer!
2. Water play
If it's hot – water play is the ideal summer cool-off entertainer! *Before I share my water play ideas please, please remember that little ones need constant supervision around water. 
Water trays: You don't need an expensive water tray with all the gadgets – a simple washing up bowl filled with cups and plastic bottles will provide plenty of fun for your little ones! Floating and sinking experiments make a great science activity for older children, and making homemade boats is great fun!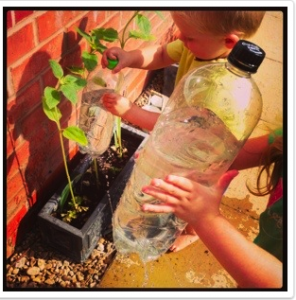 Pools: Paddling pools provide hours of fun in the sun – we bought a super cheap one for a fiver from Asda! Perfect for a dip on a sunny day!
Water fight station: Water fights were the highlight of my summer as a child. Set up a water fight station with empty washing up bottles to full and squirt at opponents, cups, sponges or even water bombs!
Watering can fun: One of my fave easiest water activities is making homemade watering cans out of pop bottles! Water play while helping in the garden? My kind of play!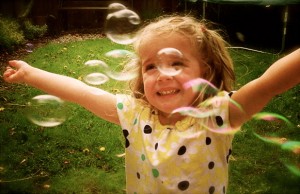 3. Bubbles
Who doesn't like bubbles? Such fun and so easy to make! You can buy bubbles cheaply – but making your own bubble solution is super cheap and will last much longer!
Ever tried bubble painting? Enormous fun for little ones and older kids too! Why not have a go outside in the fresh air and make a bubbletastic piece of art!
4. Den building!
We love building dens! From our simple table and chair constructions right up to our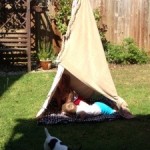 super-duper tipi's that last all summer. If you're feeling super creative, get yourself to your local woods and build some dens with sticks and leaves for awesome outdoor active summer fun!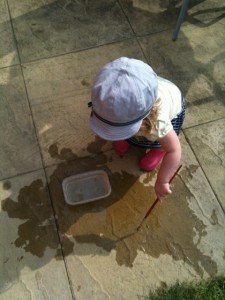 5. Water painting
Easiest activity ever, and one I've done lots with little ones over the years!
My two love water painting and will happily paint walls, fences and paths with nothing more than a brush and a pot of water!
6. Make daisy chains!
You really can't beat the old school activity of daisy chain making!
Have a chain making competition with your little ones! Who can make the best necklace or crown? The longest chain? Super easy fun for a sunny afternoon in the garden or park.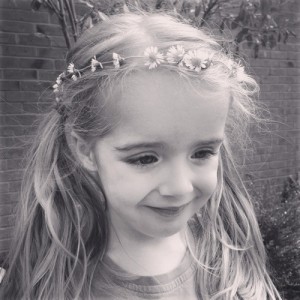 7. Pack a picnic!
From the front room on a rainy day, to the local park on a sunny day – picnics really are the summer essential activity! Take a bear or two and invite some friends along for a teddy bears picnic! Have a family picnic get-together at the beach or park or even eat your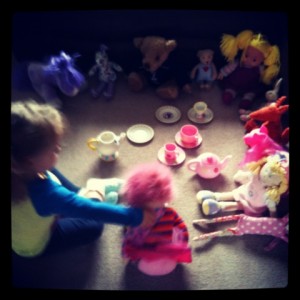 picnic in your homemade den!
Get your little ones to help prepare – let them choose from a variety of healthy snacks to pack, and add a little treat or two! Remember to pack lots of drinks to avoid getting dehydrated on hot days and avoid heavy, stodgy food. Little ones often prefer small snack foods on hot days. Chopped fruits, cheese, meats and bread sticks make ideal picnic foods.
8. Chalking fun!
Break all the rules of 'only draw on paper' and take the chalks outside! Chunky chalks are available quite cheaply from most supermarkets and are fab for little hands!
Let your little ones get super creative on the patio – and don't worry about the mess – the good old British summer rain that will inevitably fall over summer, will wash it all away- just don't forget to photograph the masterpieces before they disappear!
This chalk game is great fun for older children and great for number recognition and practice!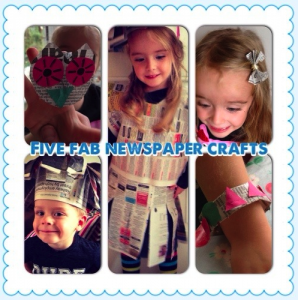 9. Newspaper crafting!
Don't throw your newspapers away! Make some fun and fabulous things from them this summer in a shady spot in the garden (or if it's raining – it's an ideal boredom buster!)
These five fab newspaper crafts are easy, cheap and great for keeping the kids busy this summer!
10. Nature walk and nature painting!
A nature walk is a great thing to do with the littlies this summer! We love getting out and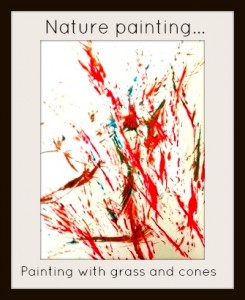 about – in fact we walk the dog everyday and regularly come home with a collection of treasures which are ideal for doing a spot of nature painting with.
From feathers to pinecones – there's lots of natural items to be found for a spot of painting with! The painting on the right here is done with grass and pinecones! I rather love it!
Whatever you get up to this summer, we hope you have the best time ever! We'd love to hear if you have a go at any of our top ten terrific summer fun activities so let us know on social media or in the comments below!
Happy summer lovelies!