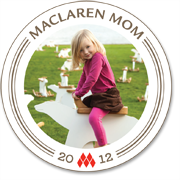 As you may or may not know, I'm a 2012 Ambassador for Maclaren which is rather exciting for me as I'm a big fan of this brand due to the practicality of their products.
Their compact strollers are pretty hard to beat for design and price and I have to say, for an umbrella fold style buggy – Maclaren is one of my personal favourites. Our recent review product, The new Maclaren Techno XT, comes in a vairety of colours. We reviewed the black and grey.
The Techno XT pushchair oozes cool, class and style while providing a comfortable ride for your little one and perfect for parents on the go, with it's one hand fold system and compact fold.
The seat unit has 4 recline positions and an adjustable leg rest and for very small littlies, (newborns) there's a head hugger and cosy toes to keep them warm, safe and snug.
The sporty XT pushchair has front and rear suspension and height adjustable handles (great for my almost 6ft tall husband and my small 5ft frame!)
The square hood has a UV protective viewing window, air vents , sun visor and reflective wheel rims for night time safety. The hood also has handy storage and fits snuggly to the trendy silver raincover.
Features :
NEW one-handed recline

NEW hubcap design

One handed 5 second compact umbrella fold

Ergonomic height adjustable handles

Padded seat with 4 recline positions including lie flat

Height adjustable straps on the 5 point harness

Extendable leg rest

Linked brakes and lockable front swivel wheels

Front and rear suspension

Square sun hood with UV window and sun visor

Air vents, reflective accents and storage pockets

Includes Raincover, head hugger and shoulder pads, customised luggage tag

Guaranteed for life with the Maclaren Sovereign Lifetime Warranty

Suitability: From birth

Weight: 7kg/ 15.3lb

Dimensions: pushchair:110 x 48 x 61 cm folded:110 x 28 x 29 cm