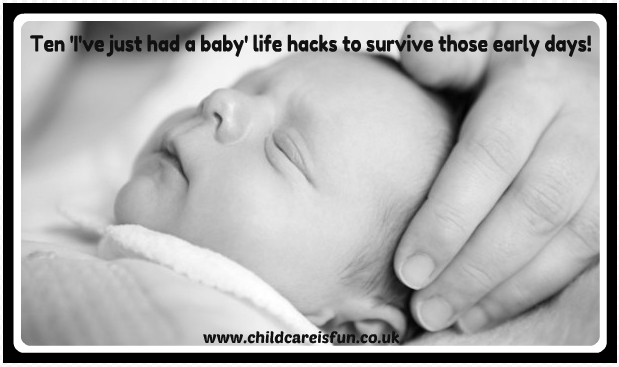 Those glorious first days with your newborn should be a time for enjoying every precious minute with your new bundle of joy, but often those days go by in a whirlwind of feeding, nappy changing and visits from family.
Here's Ten 'I've just had a baby' life hacks to survive those early days!
1. Food frenzy! BEFORE little one arrives – stock up the freezer with easy meals to heat up or cake loaves for visitors! (The cake one: We all know cake is good for the soul right? It also makes you look pretty awesome – visitors won't know they've been made weeks before!) 
2. Buy in bulk! Stock up on baby essentials like the apocalypse is about to happen. Seriously – make sure you have enough nappies, wipes and baby bits and bobs before baby arrives. The last thing you'll feel like doing after just having a baby is nipping to the shops for nappy cream!
3. Prepare your replies! Prepare a text reply on your smart phone for those lovely well wishers that keep calling because they can't wait to see the new baby!
Here's how to do it on an iphone: When a call comes in, tap on the little phone icon in the lower right and slide up. You'll get the option to either reply with a message or to set a reminder to call the person back later.
If you choose to reply with a text message, there's a few standard replies such as 'I'm busy' or 'I'll call you later' custom message, but you can actually customise your own reply!
Go into settings. Select 'Phone settings' then select 'Reply with Message' and it'll give you the option to write your own. Something like 'Thanks so much for calling – busy with our new little one at the moment but will call you back as soon as hands are free!'
It's a great way of responding to calls when you have your hands full and are busy with little one or have other visitors and means callers won't keep bombarding you with calls and answer-phone messages!
4. Feel good in 10 minutes!  You know what? Looking good makes you feel good don't you think? PJ days are awesome, but those visitors are going to want to come and see you and take a gazillion pictures, so for  those days invest in comfy, 'these make me feel awesome' clothes.
Mums: I'm going to break it to you here. Those glossy mags with gorgeous 'got my figure back in 4 days' mamas on the front? Not real.
That beautiful belly bump of yours will hang around for a while – so embrace it, and if you really hate it – disguise it so you feel great. Buy flowing tops and team with nice scarves and super comfy trousers or leggings (you might be a little tender downstairs!) The start of motherhood doesn't mean the start of the frump factor!
Make-up is not essential but finding time to shower and brush your hair – is. Honestly – you'll feel a million times better after a shower. Take it in turns with your partner to have that 'getting ready' time, or invest in a baby bouncer and take baby into the bathroom with you. A shower takes 5 minutes tops in a rush and 10 minutes if baby is sleeping and it'll make your day feel so much nicer.
Mums: Want an easy 'I'm shattered but don't want to look it' cheat? Invest in some light tanning moisturiser! (Dads – they do a men's version too!) I love the Dove range – it gives a light glow and makes me look less shattered and broken after sleepless nights.
Add lip balm and brushed hair and you'll feel amazing. Promise!
5. Prepare for the escape! The first few days you'll likely want to hang around the house adjusting to parenthood, but getting out and about after a few days is so good for you! Even just a walk to the park. So – prepare that nappy bag! Have a bag always ready with things you may need for your baby (And don't forget things for you! Spare clothes, money, etc.)
If you use an item, make sure you replace it as soon as you can, that way your bag is always ready – you can pop out anytime without a mad rush to scram everything into a bag and end up forgetting things! Have it hanging by the door so it's always handy.
6. Set up a changing box downstairs. That gorgeous nursery you spent hours making beautiful? The changing station all decorated and organised beautifully? It'll likely only get used mornings and at bedtime if you live in a house rather than a flat. So – invest in a little basket of changing goodies for downstairs.
Why?
1. To save your legs when you are shattered (or sore) stairs are hard work with a baby when you're feeling shattered.
2. To ensure when the mighty poo explosions happen (and they will) that you have things close by.
3. If someone offers to change a nappy they won't see the explosion of messy 'I've just had a baby' chaos upstairs! It keeps the visitors where you want them! Clever hey?
7. Perfect your knowing nod. Seriously – you'll likely get more advice in the first week of becoming a parent than all the years that follow. So, to avoid family feuds, broken friendships or in extreme cases – getting arrested – perfect your 'thanks for the advice now P**ss off' face and use it anytime someone offers unsolicited advice. Say nothing. Nod knowingly. Smile. (Rant freely when they've gone home.)
8. Eat Cake. It makes you happy. Seriously – don't start a 'drop the baby weight' diet in those first few weeks. Dads! This goes for you too! Eat well, eat heallthily too when and where you can, but don't deny yourself those treats.
Tiredness sucks. Cake is nice and makes you smile (or biscuits – whatever treat you fancy.) Please remember to be kind to yourself.
9. Take time out. It's not easy, as a parent myself I know this!  But – it's essential. Even a bath and a book for half an hour each week if you can. Ask your partner, your family – even your friends to help you have that 'me time'
Go for a walk on your own, lie on the bed listening to music or watching a favourite TV show. Read a bit of a book at a time for a bit of escapism. Just half an hour of time off from parenthood will do you so much good. Oh – and don't feel guilty about it either! Parenting is totally lovely but take time for you and you'll parent even better! Ask for help so you can have your half an hour. (Anything over half an hour and you are winning!)
10. Buy twenty-million Burp cloths: You can honestly never have too many burp/sicky cloths! They are great for mopping up spills, protecting your clothes while feeding, protecting your favourite rug from baby sick (placed underneath baby) for breastfeeding in public or when family come over if you are a bit worried, for peekaboo games, for collecting baby toys up and wrapping into a sack. They can even be used in an emergency 'what do you mean we've run out of nappies?!' situation. 
I Hope these 10 little baby life hacks help you enjoy those precious days with your new little bundle!