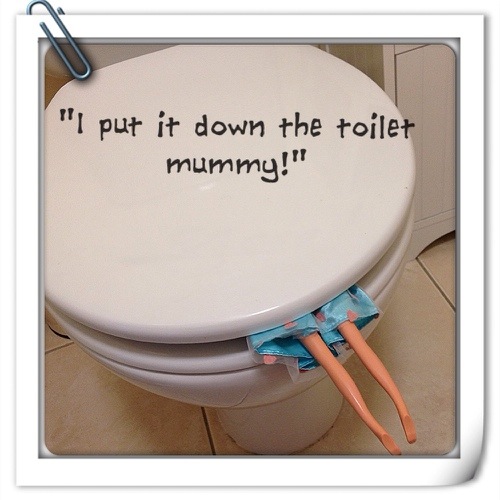 Those words.
 That fear in the pit of my stomach.
"I put it down the toilet Mummy!" Said Oz.
After a successful toilet training summer, he'd finally learned to flush the toilet. He'd become a little obsessed about putting loo-roll down and flushing it and so, in his new loo flushing curiosity he'd wondered how many other things would flush.
Nappy sacks? (No they don't flush.)
Big sisters favourite fairy-doll? (Nope too big.)
Dog bone? (No – they do go squishy though)
And finally. The day of spectacular – 'how-many-things-can-I-put-in-the-toilet-at-once AFTER having a poo.
That day will always stick in my mind.
Scooping each item out of the toilet, retching with each scoop.
Tinkerbell never really recovered from that incident. I don't think I have either!
I'm happy to say Oz's loo flushing obsession finally ended when he was warned that for every item he put down the loo, I'd pop one of his toys down there too. Luckily he never challenged the idea, and I didn't have to subject our toilet to cars and dinosaurs.
I just hope I never have to hear those words again…
"I put it down the toilet mummy!"
 
I am part of the #Blog4Sanitation movement setup by Splashdirect to raise awareness of the importance of global sanitation. Learn more about World Toilet Day.