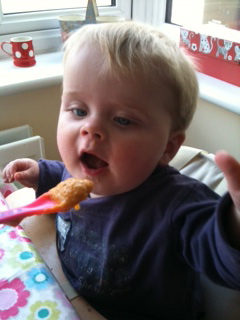 At childcare is Fun we love reviewing products for littlies – and baby food is something I'm particularly interested in as I homecook most of my littlies meals! However, I'm by no means super-mummy and I do find the occasion when I'm out and about that it's just easier to have a baby pouch or tub of food that is ready to eat and doesn't need keeping cool, especially in the warmer weather or on holiday.
It's not that I disagree with feeding babies bought food, it's just something I've always done in my career so it seemed only right to do it as a mummy! I also find lots of brands of baby food particularly bland and boring for littlies. Food is about fun and experimenting with flavours and so many baby food companies fail to achieve this in their products.
Do you try your baby's food?
Sound gross? Why?
If it the food you're about to feed your baby smells and looks awful, why oh why are you feeding it to your baby? I try all shop bought food before giving it to my littlies and that includes all we are asked to review!