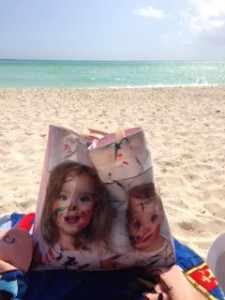 As a mum to two toddlers, my beach bag no longer consists of a a few items such as my reading book, ipod, glasses and suncream, instead it is filled with nappies, swimming nappies, suncream for me, suncream for my husband and suncream for the littlies. Then there's sun-hats, spare clothes, toys, my phone, purse, water wings, insect spray, plasters, drinks and snacks!
With this in mind I wanted a waterproof, fun, and spacious beach bag to take with me to Cuba. Imagine my delight when the lovelies at Bags of Love got in touch asking if I'd like to review one of their personalised gifts.
Bags of love make rather gorgeous personalised bags from a favourite photo. The Photo is reproduced onto canvas and custom made with Italian patent vinyl trim and long thick leather handles.
I immediately chose this shopper hoping it would be perfect as a beach bag – and it really was! I chose a light pink back to our bag and it set off the photo that I uploaded perfectly.
Ordering was easy – I simply uploaded a photo, followed the instructions to choose a backing colour, fill in address details then pay. The bag arrived the next day – mighty impressive!
Our bag got lot's of attention on holiday, from the moment we arrived the airport, through all of our holiday (other holiday makers and Cubans adored it!) Right up until we landed.
Now I use my bag of love for shopping and it fits in a huge amount! It's a little like the Tardis – small to look at but big inside!
I love my bag of love!
Bag price from £55 from www.bagsoflove.co.uk 
We were given a personalised bag to review