Here at CCIF we love new loveliness for littlies, and what better loveliness is there than yummy treats for little tummies?
The only problem with snacks is the huge mess littlies make when they eat.
Not anymore!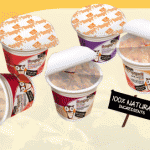 Introducing Benjoy – the clever anti-spill muchcups that contain nutritious, delicious and 100% natural Benjoy foods.
Benjoy began thanks to one mum's desire to discover nutritious, tasty and convenient snacks for her fussy son that wouldn't deprive him of goodness – or make her feel guilty.
Michelle Daniells talked to other mums and found she was not alone, so an exciting new concept in children's foods took shape. Together with a panel of wise mums and nutrition professionals, Michelle developed Benjoy.
We put the Bejoy muchcups to the ultimate test – our CCIF Testers!
One of our toddlers, Betsy tells us what she thinks…
I love food, but like other toddlers, I make a huge mess when I eat. (At 14 months old,I'm at that stage where I insist on feeding myself!)
Mummy gave me a munchcup and I loved it!
I used my little fingers to get into the box and no matter how hard I shook it upside down, the contents remained inside because of their clever flap -perfect!
The snacks inside come in different flavours (my personal favourite was the crunchy grape slices. Normally I get through my snacks in minutes, but these clever cups kept me entertained for ages!)
The other flavours are multi-grain bites, crunchy grape slices, crunchy strawberry slices, root vegetable mini crisps and multi-grain munchers.
My mummy thinks these snacks are fab for littlies and I agree. A healthy snack that keeps in it's box, causes less mess and is full of goodness! If you would like to try some munchcups you can buy them here.