Water!
We all need it, we all drink it, and in the hot weather when littlies can become dehydrated quickly, you need to help them keep their fluids topped up? But how?
How about Children's TV character bottles of water?
Silver Spring is a Silver Spring brand and is produced in Kent using spring water from the Kentish hills. They were alarmed by the worrying fact that only 6% of children drink their recommended daily allowance of water, and so have joined forces with HIT Entertainment to create cute little bottles of British spring water, featuring Angelina Ballerina, Bob the Builder and Fireman Sam.
The aim is that by making the bottles as fun and engaging as colourful soft drinks, kids will be encouraged to drink more water.
HIT Spring Water will available to buy in Boots and Asda stores nationwide from June 2011, but we were lucky enough to let our CCIF testers try some in April!
What we thought: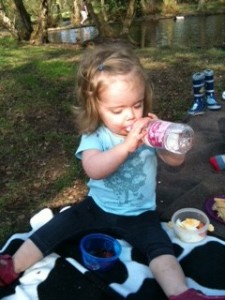 Miss B (20 months) only ever drinks water, but to be honest- not very much! The Angelina Ballerina bottle of water was guzzled up in 5 minutes and then she clearly announce she wanted 'more mamma!'
Ben (2 years) enjoyed the water too – there was even a fight over the Angelina bottles of water at one point, but Ben loved his Bob the builder bottle and enjoyed drinking from it.
We loved the water bottles! A handy size to take out and about and the characters really did make a difference!
Miss B drank hers so fast that I think it clearly proves the HIT Spring water isn't just a gimmick! (We often give her bottled water if we forget her cup and are out and about, but she still only has a few sips!
Our only negative thought is that the bottles would be refilled by parents rather than purchasing new bottles. (We'd suggest avoiding this!)
We all hear rumours that this could be potentially harmful if bottles are not washed properly or become damaged, (bacteria) or left in the heat and re-used for long periods of time, but there has been no clear evidence yet to support this.
How much?
HIT Children's Spring Water costs 49p per individual bottle or £2.49 for a pack of 6 which we think is pretty reasonable indeed!