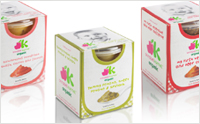 Yumalicious!
Brand new from Annabel Karmel, these fresh baby meals are perfect for little ones aged 6 from months. With three recipes to choose from; Scrumptious Butternut Squash, Carrot & Salmon, My First Vegetable & Beef Casserole and Yummy Sweet Potato & Spinach. They are high in protein, bursting with organic ingredients and taste just like homemade!
We (well, little 8 month old Oscar!) were lucky enough to try some thanks to Annabel who sent us some recently!
Oscar puts them to the test!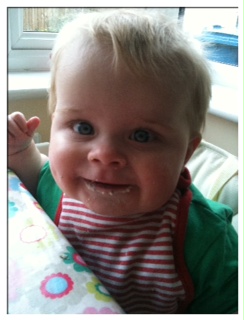 Now little Oscar loves his food which is mainly home-cooked by me! I love Annabel's recipies from her mountains of cook books in my kitchen and have used them for years as a professional nanny and now as a mummy to two under 2!
The sweet potato and spinach was Oscar's particular favourite. (I know this by the angry noises he made if I delayed spoon-to-mouth for more than five seconds!) And the others all went down easily with no rejecting or super shaking of his head (which he does if something is not-so-yummy!)
Do you try baby food before giving it to your baby?
I do! And yes, I tried some of these purees too! (Just a tiny taste!) I think if you can't eat it yourself – why expect your bay too? come on now! how many of you are guilty of not even dipping your finger in to have a taste?
The texture of the purees was perfect. Smooth and soft on Oscar's little palate, and enough flavour to make them interesting and not bland like some baby food!
Where to buy?
Annabel Karmel's yummy Sweet Potato & Spinach, Scrumptious Butternut Squash, Carrot & Salmon and My First Vegetable & Beef Casserole are available in 2 x 100g pots priced at a very reasonable £2.69 from Sainsburys.