The Pregnancy companion!
Here at Childcare is fun, we are always on the lookout for fantabulous products that make pregnancy and parenting just that little bit easier!
We were delighted to be offered the chance to try out a rather cool application for the iphone called 'The Pregnancy companion'
Pregnancy Companion™ was developed and written in the USA, by two board certified OB/GYNs.
It is the most comprehensive pregnancy app made for busy moms-to-be who want a doctor's advice and pregnancy tracking tools at their fingertips.
It provides personalized, user-friendly and unique tracking tools, as well as reliable and pertinent medical information and answers to questions that pregnant women most often have.
On first downloading the ap, our fingers got carried away with all of the exciting buttons and gadgets available!
Pregnancy is an exciting time, but also a worrying time, and the ap covers everything from a daily fluid intake counter to answers to any worries and concerns a pregnant mummy-to -be may have.
As an English mum-to-be, it's a little hard getting used to the americanisms in the ap, but not too tricky to convert (certainly not rocket science!)
The Ap is a 'peace of mind' tool for any mum-to-be wanting that little bit of reassurance in her pocket! With the pregnancy application to hand, you're only two clicks away from getting the answers you need.
Our fave parts:
We especially like the week by week updates that give you measurements of your growing baby and little scan pictures so you can see what they look like! we also love the kick counter, and when the big day comes, the contraction timer is the perfect helping hand for dad! (We all know men love their gadgets so what better way of helping in labour, than with an iphone!)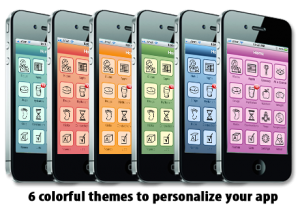 The application includes:
• Drug Safety
• Hydration Counter
• Nutrition Guidelines & Calorie Tracker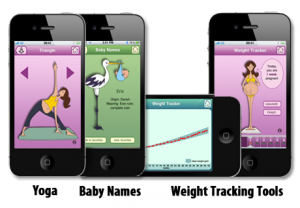 • Weight Tracker (Standard & Metric)
• Kick Counter
• Contraction Timer
• Yoga Poses
• Acupressure Points
• Baby Names
• Appointment calendar
• Glossary – explains pregnancy related terms and symptoms
Features:
• Developed by 2 Board Certified OB/GYNs
• Available in English & Spanish
• Status – Shows current gestation time and gives week-by-week explanations of what's
happening with Mom & baby
• At-a-Glance section – Quick reference guide for tests and planning in your pregnancy
• Ultrasound images with information highlighting baby's development
• Calculate due date by last period, conception or due date
• 6 Custom Background colors
• Customizable Lists – sharing enabled
o Questions to ask your doctor
o When to call your doctor
o How to prepare for your baby
o What to buy for your newborn
o What to pack in your hospital bag
o Create your birth plan
Pregnancy CompanionTM iPhone App

Who are the Docs?
Dr. Jan Rydfors (Adjunct Clinical Professor at Stanford University Medical Center and the
co-author of Obstetrics, Gynecology and Infertility: Handbook for Clinicians, the most popular clinical handbook of Obstetrics in the USA) and Dr. Aron Schuftan (Boston Medical Center) together they have over 25 years of experience caring for pregnant women.
'We have put our years of experience as obstetricians and teachers into an innovative and user-friendly iPhone, iPod touch and iPad compatible app that contains fun and important information for all expectant moms. We have a busy private practice specializing in high-risk obstetrics and infertility treatment in the heart of Silicon Valley, California.'
Recomendations:
"Pregnancy Companion is an incredibly unique and comprehensive iPhone app that every pregnant woman should have. I am recommending it to all of my patients."
Preete Bhanot, MD (Board certified OB/GYN; Gilroy, CA)
"This is a great resource for women who are pregnant. It's very friendly and so informative! It answers all the questions my patients ask me in my day-to-day busy practice."
Mary Ann Sarda-Maduro, MD (Board certified OB/GYN; Fremont, CA)
"My patients will love this app. It is so helpful and has so much information! This app has great graphics and will really make pregnancy even more fun for my patients to experience"
Patricia Calayag, MD (Board certified OB/GYN; New York City, NY)
Company info:
Pregnancy Companion iPhone App
by OB-on-the-GO, LLC
401 Warren St., Suite 300
Redwood City, CA 94063
General Inquiries – info@pregnancycompanionapp.com
Public Relations – pr@pregnancycompanionapp.com
Pregnancy Companion App
PregCompanion
So now you know all about the fab ap for mum's-to-be, why not download it?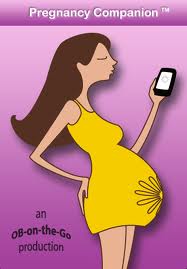 Thanks to the lovelies at Pregnancy companion, we have one ap to give away to a lucky mum-to-be on our competition pages!