The award winning Dreamgenii pregnancy support pillow is designed to aid restful sleep during those uncomfortable stages of pregnancy when getting comfortable is a difficult task.
Dreamgenii offers gentle support for your tummy, back and knees, allowing you and your partner to get a good nights' rest.
Its shape encourages you to sleep on your side, in the recovery position, which, if used regularly from the second trimester, can encourage baby into the optimum position for birth.
The gentle back support discourages rolling onto your back during the night, which can restrict blood flow to both mother and baby, and the leg support is designed to take the pressure off your tummy and back by gently lifting your leg whilst you sleep.
The lovely folk at Dreamgenii gave our lucky mum-to-be testers, Annabel, Vicky, Gemma and Dawn, some rather gorgeous pregnancy pillows to test.
Here's what they thought:
Mum-to be Annabel
I'm a second time Mum-to-be, and don't I know it!
Gone are the days when I can float through pregnancy, getting all my required regular exercise and early nights!
With a 4 year old about to start school, a full time job and my own business to run, one thing I need is a decent night sleep at the moment, especially as I'm 30 weeks pregnant.  And this is one thing I've been struggling with of late.
Not, however, I'm hoping for much longer!
For yesterday, a fine looking Courier man dropped off a parcel, and inside was the answer to all my night time comfort woes.
Up to now I've been trying to support my growing bump at bed time with a rudimentary L shaped pillow, which is both bulky and not really all that very comfortable to hold on to.  It also manages to take up a great deal of room in my standard size double bed – much to the delight of my Husband!
Step to the rescue, Dream Genii! Whoever dreamt up this design knows what a pregnant woman in need of a good nights sleep is after.
An unusual looking design (it looks a little like an apostrophe in illustrations), the Dream Genii pillow has been designed to provide support and comfort for the pregnant lady and her bump.
I personally find that the very best part of the Dream Genii Pillow is the way it tucks under your back (via a flat piece of fabric that connects a back support, and the long round part of the pillow that lies from your chest and fits between your legs – preventing the knee and hip ache I have started to become all-too familiar with after a few hours sleep in bed).
This secures the whole design in position during any night-time movement, which means my Husband doesn't wake hugging my 'L' pillow and I'm left feeling grouchy and in discomfort – 'Geniius'..! 😉
Seriously, last night, I had the best nights sleep I've had in weeks.  I slept deeply and I slept comfortably.
The Dream Genii pillow fees like a great big faceless teddy bear and I actually noticed myself smiling quietly, so comfortable I was when I woke this morning.
I'm also looking forward to making use of the Dream-Genii pillow during the day when I practice relaxation techniques.  The package comes with some helpful illustrations on how the pillow can be used to help easy the baby into the optimal feotal position.
All in all, a fabulous design that packs away neatly and that I shall be making optimal use of during the 10 weeks of so I have left of this pregnancy, and afterwards as a breast-feeding support cushion (such are the multi-uses of this fabulous design).
Highly recommended – 10/10
Mum-to-be Vicky
I think the Dreamgenii is a far cleverer desing than any other alternative products o the market! It supports my back, bump and my legs, making it easier to sleep on my left.
It prevents and helps back ache which for me is great as my baby is lying back to back- a common cause of back problems in pregnancy!
I wish I had known about this pillow in my first pregnany, I would have definatley bought one as its so soft and comfortable! I find it easy to turn without moving the whole pillow although it does take up quite a lot of the bed!
I would reccomend this pillow to pregnant women everywhere!
Mum-to-be Gemma
My first impressions on opening the pack was that I thought it might be bigger/slightly more padded to give me the comfort I'd been trying to achieve, by wedging myself with numerous pillows before going to sleep, since my bump appeared.
That didn't matter the pillow is deceiving and is really padded and comfortable!
Once I'd followed the enclosed instructions and strategically wrapped the pillow around myself, my bump felt cushioned and supported. Having one pillow to sit under my bump which then could be placed between my knees did give me a more comfortable sleep and seemed to release the pressure from my stomach and back.
Since using the pillow I've only woken in the night to nip to the loo and not through discomfort- which is great!
Before I got the pillow going to bed was a bit of a military operation!  I used 2 pillows for my head, 1 wedged under my bump, one between my knees and a cushion under my back. It's far easier going to bed and wrapping one pillow round me! It certainly offers more support for my bump and legs than before and I will continue to use it!
Practically, the cover can be easily removed and washed.  however, the pillow does look a bit unsightly when my bed is made and it is placed alongside all my nice cushions but can easily be stuffed into a cupboard out of the way- (we just don't have the space to do that.)
I must admit I'd never normally spend £45 on one pillow- it does seem a lot to pay, however,  having used the pillow I would definitely recommend it as it has given me a better night's sleep and that to me is value for money. The pillow can also be used as a feeding cushion when the baby arrives so it does have a use past pregnancy.
Mum-to-be Dawn
My first impression of the Dreamgenii pillow was what an odd shape it was! I was impressed by the washable cover, and even more impressed after it gave me a comfortable nights sleep!
I'm a very restless sleeper and get 'dancing legs'! The dremgenii put a stop to this and kept me still and fidget free!
The pillow keeps me on my left side, which I've tried to do before, but not always managed, and I know this is the best position for baby.
Compared to the pillow I used before (the simple V pillow) I'd say this is by far better as the shape keeps your body in position, and is great for pregnant ladies.
I think it's priced a little high at £45, and to be honest, I don't think I'd have paid this when looking for a pregnancy sleep aid.  However, now I have tried it, I would say to any pregnant woman to go out and buy one- they're great!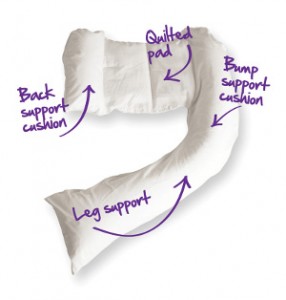 How to use your Dreamgenii
To achieve the best night's sleep from your dreamgenii® pregnancy support pillow:
*Lay the dreamgenii pregnancy pillow flat on to your mattress with the leg support cushion to the right
*Lie on your left side on the dreamgenii pillow with the quilted pad under your middle and the back  support cushion fitted snugly into the small of your back. Ensure it is firmly in place.
*Pull the bump support cushion inwards gently towards and against your bump
*Pass the leg support through your knees to support your upper leg
*The dreamgenii pregnancy support pillow has been designed to allow you to turn over without having to turn the whole pillow over. Simply turn over onto your right within the pillow (leaving the quilted pad in place) and pass the leg support through the back of your knees to achieve the same level of support. Only minor adjustments are required to the left and right cushions to achieve a comfortable continuation of your night's sleep.
To use the dreamgenii pregnancy support pillow for feeding
*Sit comfortably in a chair
*Position the leg support comfortably into the small of your back leaving the back and bump support cushions in front of you
*Fold the back support cushion around and under the bump support cushion to achieve a cradle shape in which to place your baby
*Place another pillow under your arm if you require extra support whilst feeding.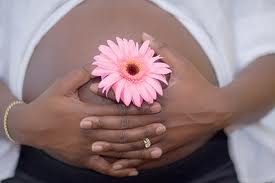 So there you have it!
The Dreamgenii was put to the test and found to be the pillow most definitely worth purchasing to stop those restless nights during pregnancy!
If you would like to buy a Dreamgenii pillow you can buy direct from their online store for £44.99
Thanks to the lovelies at  Dreamgenii, we have one of these fantastic pillows to give away! For details on how to enter, check out our competition pages.