Pregnancy Support & Feeding

According to Dreamgenii, 9 out of 10 women would recommend a dreamgenii® pregnancy pillow to a friend (Customer Survey 2010)
Made from 100 % cotton, this bright, special edition dreamgenii® pregnancy pillow is for those who like a splash of fun and colour.
The patented dreamgenii® Pregnancy Pillow is Recommended by Midwives across the UK and is recognised as the only specifically designed pregnancy pillow to adequately support back, bump and knees at the same time without taking up all of the room in the bed.  The dreamgenii pregnancy pillow, after pregnancy, can be used as a fantastic breastfeeding support, as it is designed to support your back during feeding and keep the baby at the correct height and position forbreastfeeding.
What our  tester thought…
Fi, mum to baby Oscar
I used the Dreamgenii pillow throughout my pregnancy as a sleep aid, and now use it to support Oscar while feeding.
It's soft and comfortable, and provides great support while feeding, often leaving me hands free to read!
Breastfeeding Pillow & Baby Nest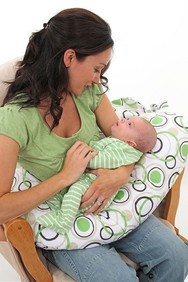 This rather lovely, Midwife approved, breastfeeding Pillow designed by dreamgenii®, comfortably supports mothers and babies during breastfeeding.
This unique pillow is ergonomically shaped to support your lower back by encouraging a firmly supported upright feeding position and to elevate babies to the correct height and position for breastfeeding without you having to bend forward.
This relieves strain on shoulders, back and tummy which is particularly important following a caesarean section.
Unlike some other breastfeeding pillows, the dreamgenii® Breastfeeding Pillow is designed to comfortably fit the majority of breastfeeding women.  Its ties can be used to adjust the pillow to fit and to secure the pillow around you whilst feeding, as well as to make a secure nest for your baby.
What our tester thought…
Fi, mum to baby Oscar…
A fantastic support pillow- really great! This pillow is bright and cheery and makes breastfeeding really easy! when Oscar is older, it'll make a great sitting support aid too.
The Widgey breastfeeding nursing pillow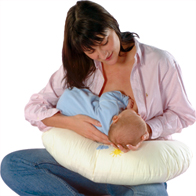 This rather fabulous pillow is strong and firm and provides good support to the baby whilst feeding and support their back.
The Widgey nursing pillow will also grip around your waistline comfortably offering you a feeling of security and remove the need for you to keep adjusting it for comfort during feeding.
The multi use pillow has many functions including pre-natal back support for you, optional between knees support whilst sleeping or as a wedge to rest under your tummy when sleeping on your side.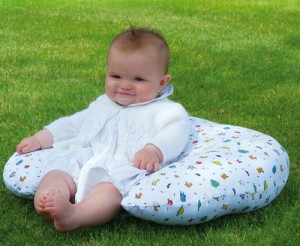 The second stage is as a Baby Nest for your baby, within the curve, on the floor after feeding.
Prop your baby within the baby nest when learning to sit unaided and to cushions their fall should they topple over. Removable 100% cotton washable cover.
You can choose alternative covers for different stages of your baby's needs.
There are some lovely designs to choose from including Cow, Red Fossil, Blue Fossil, Pink Dotty, Green Dotty, Blue Gingham and Animal Print.
What our tester thought…
Fi, mum to baby Oscar
We tested these at the baby show and were mighty impressed with their functionality.
They provide great support during pregnancy and breastfeeding and are small enough to take out and about should you wish to do so.