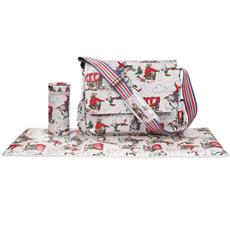 Changing bags are essential to any new parent, but with so many bags available out there it's hard to know how to choose the right one.
So, where to start?
Well, firstly a changing bag needs to be spacious, easy to carry and preferably look good, too. Most importantly, it needs to carry all of the essentials you need when out and about with your baby, so think about the size and space inside! (Saying this, keep in mind that a deep bag may hold lots,but if it has no compartments it may be hard to find the specific item you want if it gets lost at the bottom, and as every parent knows with a small baby, when you need something, you need it fast!)
Changing bags come in different styles. Backpack or shoulder bag style, which keeps your hands free for carrying your baby or pushing the buggy are great, or changing bags that are more like a handbag or holdall can look stylish.
When choosing a bag, remember what it's for rather than how fashionable it is. Nowadays your'e lucky enough to have a wide selection so both can be achieved!
Whether you decide to go for top of the range to cheap and cheerful, here are a few key pointers to look out for.
*Does it have a changing mat included?
*Are there plenty of pockets and compartments for baby's bits and bobs?
*How big is it (will it fit everything you need)?
*Is it worth the money or are you paying just for the name?
*Is it washable?
*Is it hard wearing?
*Will it fit in your buggy basket or on your buggy handle safely without tipping the buggy over?
Here at childcareisfun, we've taken the shopping nightmare away so you don't have to spend hours scouring the shops and Internet for that perfect bag!
Our Top Ten favourite changing bags
1. Cath Kidston changing bag (from £50 www.cathkidston.co.uk)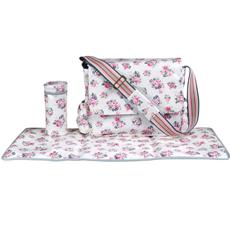 This gorgeous floral print is typical of the Cath a kidston range. Vintage style gorgeousness with PVC lining, it's easy to care for and comes with a bottle holder and changing mat which both fit inside the bag. The bag measures 36 x 27 x 13cm so is really roomy and has a long adjustable strap that can fit over the handle of a buggy easily. Made in oilcloth these bags are wipe clean on the outside as well as the inside, so will stay looking great for longer! Also available in cowboy print, spots, spray flowers and other designs.
2. Caboodle changing bag range. (From £12 to £40 at www.caboodlebags.co.uk) 
Each Caboodle design of bag comes equipped with wonderful features like a dirty items bag, lots of pockets,  pram loops, a design-matching changing mat and even an insulated compartment for stashing that ever important drink bottle!
Our latest favourite from Caboodle are these rather gorgeous Fun & Funky bags (£40.) 
Like the other bags in their range, they're durable and use an easy wipe clean coating – essential for those baby mishaps and toddler spillages! 
The bag interior incorporates five super-handy internal pockets plus changing mat, grubby stuff bag and insulated bottle bag. They're sturdy, spacious and live up to their name – a real fun and funky bag.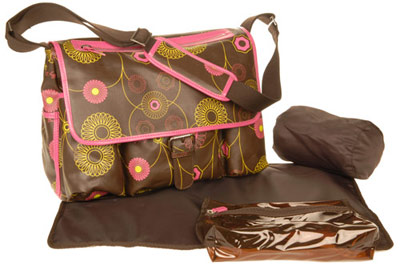 3. Billy Bag Maternity Bag (£97 at www.happybag.co.uk.)
Designer brand Billy Bag have produced a truly eye-catching yet functional baby changing bag.
A little pricey but has a very useful feature; The main compartment can be accessed either by opening the front messenger flap, or by a zip positioned at the top of the bag.
Numerous pockets and a wealth of features including a water-resistant exterior make this a versatile baby bag that can cope with the typical British weather.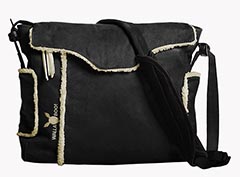 4. Wallaboo Shoulder bag. (£41.90 available for justchagningbags.co.uk)
Organisation is made easy with this Wallaboo baby bag- it has five handy pockets, a comfy padded handle and adjustable strap, plus a thermally insulated bottle holder compartment! Some additionally great features this bag includes are a removable and washable wet/dry bag with a closing zipper, plus a padded baby changing mat. Available in six colours.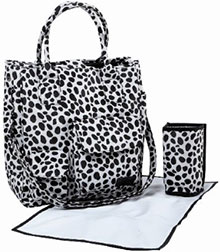 5. The Girl About Town Bag. (£24.98 from www.justchangingbags.co.uk)
This bag has got everything you're going to want when heading out to town with your baby as it integrates a compact yet comfortable baby changing mat (matching pattern), a bottle holder built into it and of course pockets that provide ample room for baby and your important changing and shopping items.
With its bright animal print- it's not a quiet little bag! One of our faves!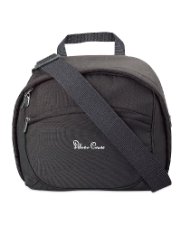 6. Silvercross Halo (£35 from www.Mothercare.com)
This lovely baby bag co-ordinates nicely with the famous silvercross pram range, around for many years and yet always updated to match the style of the curret trends.
Sterdy and spacious yet compact, it's a great bag without the great big price tag!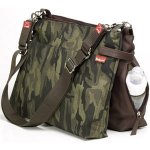 7. The X2 by Babymel. (£63 from www.happybags.co.uk)
This bag is great as it is two separate changing bags that join together to become one.
This makes it the ideal bag if you have twins, children of different ages or even if you use washable nappies and want to keep food and nappies away from each other.
You could also have one side packed ready for nursery and just hand it over in one go and still have your own organised bag with you.
The innovative buggy clip system and two sets of shoudler straps and changing mats make this a really versatile and useful bag.

8. Samsonite Nursery collection. (£38.32 from www.justchangingbags.co.uk)
A  Baby Boutique range of bags that are well made and have quite unique designs.
This one is the 'unisex changing bag' which also comes in black.
The Samsonite Nursery Collection offers something very special to parents around the globe.
Samsonite's three different ranges of baby bags include the 'Lady With a Baby' Range, the Unisex Range and the Blossom Range, each providing something quite unique to parents and at a price that doesnt break the bank!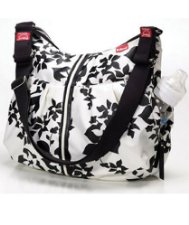 9.Babymel Floral bag. (£49.99 from mothercare) With it's funky design the Babymel bag has everything you could possibly need in a changing bag.
Five internal and two outer pockets, give you plenty of space for your baby essentials.
Also available in black, this bag is a fab baby bag at a fab price!
10.Rucksack change bag (£29.99 from Mothercare)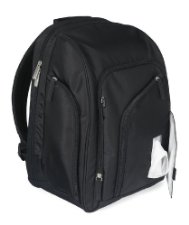 It's spacious and practical with room for all of your baby bits and bobs, it's a great changing bag, a little basic for sure but it's a great price!
Includes a handy wipe holder which is easily accessable, a changing mat and useful messy bag!