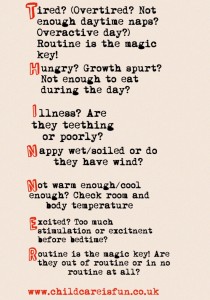 This Baby Bedtime checklist features in my book 'The Baby Bedtime Book – Say Goodnight to Sleepless Nights!' 
This helpful little checklist is particularly helpful for when you're so tired you can think straight ~ a little reminder of all the reasons why your little one may be awake in the middle of the night.
What's great is it spells out 'thinner!' Not that thinner is a winner – I just quite like a good mnemonic!
Each letter raises a reason why your baby or toddler might be awake. It's often the simplest thing – but when you're exhausted sometimes you can't see it.