Let's be totally honest, unless you're super lucky, pregnancy has a few rubbishy moments that at some point you have to struggle through.
Be it morning sickness, sore boobs, or an aching back- there's something out there in the wonderful world of maternity that can help ease the pregnancy blues. Here at CCIF we've tried and tested lots of maternnity products to find the best beauties for those nine months of waiting!
Morning sickness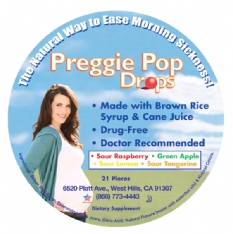 If you are unlucky enough to be suffering from morning sickness, then try Preggie Pop Drops – naturally flavoured fruit drops made especially for pregnant women.
Our mum-to-be testers and customer responses (www.mumstheword.co.uk) have shown  that they work for most women!
Sleepless nights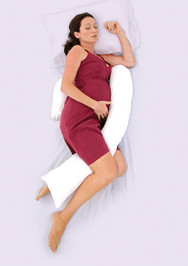 The dreamgenii® Pregnancy Pillow is Recommended by Midwives across the UK and is recognised as the only specifically designed pregnancy pillow to adequately support back, bump and knees at the same time without taking up all of the room in the bed. I
t encourages you to lie on your left side which is the best position for mother and baby (But is just as comfortable on your right by passing the leg support through the back of your knees) and gently prevents you from rolling on to your back during your sleep (Which can restrict bloodflow to your baby). Using the dreamgenii® Maternity Pillow from about 20 weeks pregnant, can also encourage your baby to adopt the optimal birth position which can mean a shorter and less painful labour.
The dreamgenii pregnancy pillow used as a breastfeeding support, is designed to support your back during feeding and keep the baby at the correct height and position for breastfeeding.  see our mum-to-be reviews here!
Aching back or SPD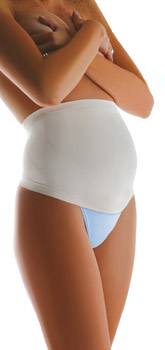 At some point in your pregnancy, its inevitable that you'll end up with an aching back.  If your'e really unlucky (like one of our mum-to-be testers) you may even develop SPD.
This fantastic bump support belt by Carriwell is an amazing aid when pregnant and you want to be comfortable!  The maternity support band gives your bump support and you confidence. It is uniquely designed for discreet and comfortable support of your back and tummy.
The unique knitting process ensures no roll-down effect and fits comfortably over your tummy. It can be worn discretely under tight clothing and is seamless, and made from velvety, soft, microfibre fabric.
Our mum-to-be tester found the belt (provided for review by More4Mums) very helpful in releaving her pain from SPD:
'It's a really great support belt because it gives you the right amount of support without being too restricting. It is easily hidden under clothes and doesn't roll down like other belts can. It's very comfortable and makes you feel supported.'
Aching boobs!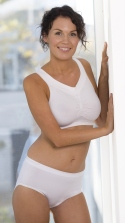 Our poor breasts undergo vast changes during pregnancy. Carriwell's mission is to 'help new mums feel comfortable and relaxed with their changing bodies by designing comfortable, flexible, supportive and functional bras'- perfect! just what we are after!
Our mum-to-be tester thought the bra kindly provided for review by more4mums, was very comfy indeed!
' I really liked the bra (I wear it lots as it's so comfortable,) but I was disappointed that the straps came so high up the neckline. In the summer this is a problem (which is now I'm pregnant) but would'nt be a problem in winter, hidden under high neck tops.'
Benefits of the bra:
*The wide straps add to comfort and support.
*Suitable for everyday wear and as a sleep bra.
*Large sports style back supports the middle back which reduces pressure on the straps.
*Similar in design to sports bras, it ensures support and total wearer-comfort, with no seams, hooks or wire that could pinch or hurt delicate breast tissue.
*The wide under band substitutes under wire resulting in extra support & "lifting" of the breasts.
Headaches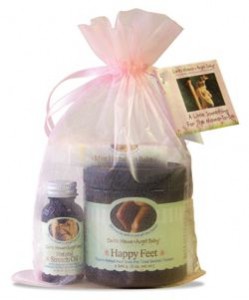 Some women suffer headaches, especially early in pregnancy. These may be caused by widening of blood vessels in the brain.  Low blood sugar levels may also cause headaches.
Migraines may get worse in pregnancy – or a lot better. *Ask your doctor whether it is safe to continue with your usual medication.
What can I do about them?
While it is best to avoid medication in the first 12 weeks of pregnancy, there is no evidence that taking paracetamol in the recommended dose causes any harmful effects.
Massage your scalp firmly with your fingers, as if you were washing your hair, (or get someone to do this for you!)
After 28 weeks of pregnancy, use your fingertips to massage1-2 drops of lavender oil in to your temples.  Alternatively, try soaking a face cloth or handkerchief in ice cold water to which you have added 1-2 drop of lavender oil, and hold this against your forehead. (If you want to use lavender oil earlier in pregnancy than 28 weeks, consult a qualified aromatherapist for advice.)
Avoid caffeine (found in coffee, tea and cola).
Take a few minutes to sit quietly and practice relaxation techniques.
*Tell your midwife or doctor if you are getting frequent headaches.
If your'e feeling stressed and in need of some TLC, treat yourself to one of these (or drop huge hints to your loved one,) and take time out for yourself to relax and unwind.
Whatever pregancy problem you have, there's always a solution that can help make things a little easier, and the ride into motherhood a little smoother.
* These items are aimed at helping minor pregnancy niggles and discomforts- If you have any concerns of a serious nature at anytime during your pregnancy contact a medical professional.