The best bottles to choose are those that are designed to give your baby a feeding experience that is as close to breastfeeding as possible, and that makes the transition from breast to bottle smooth and easy.
Here at CCIF we show you what we think are the best bottles and bottle fedding products, available for you and your baby.
Born Free bottles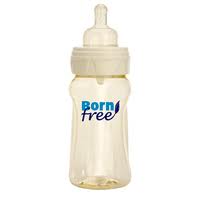 BornFree's award winning leak proof BPA-Free baby bottles come in plastic (PES) or glass and feature an
anti-colic vent designed for comfortable and safe feeding. 
The BornFree® feeding system features medical grade silicone teats in five flow rates to accompany your baby from newborn to 2 years of age.
With an attractive price of  £13.99 for a twin pack, they are certainly good value for money.
This rather fab starter set for £24.99 includes:

3x 5oz. bottles with level 1 teats
1x 9oz. Bottle with level 1 teat
1x Trainer cup
1x Twin Pack Level 2 teats
We have a set to give away to one of our CCIF readers!  Check out our competition pages for details!
Philips AVENT bottles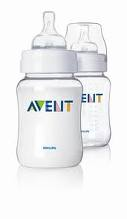 Clinical studies show that the AVENT bottle is clinically proven to help settle baby especially at night and reduce colic. 
Avent bottles work with your baby's natural feeding rhythm. The teat helps your baby to control milk flow, as they would do at the breast, making it easier to combine breast and bottle feeding.
The award-winning bottle is designed and clinically proven to reduce painful colic and discomfort after feeding. 
Air bubbles are moved away from the teat, ensuring that air goes into the bottle and not your baby's tummy, for a happier, more contented baby.
Priced around £7.99 for a 4oz triple pack, they're pretty reasonable for a safe, well known brand.