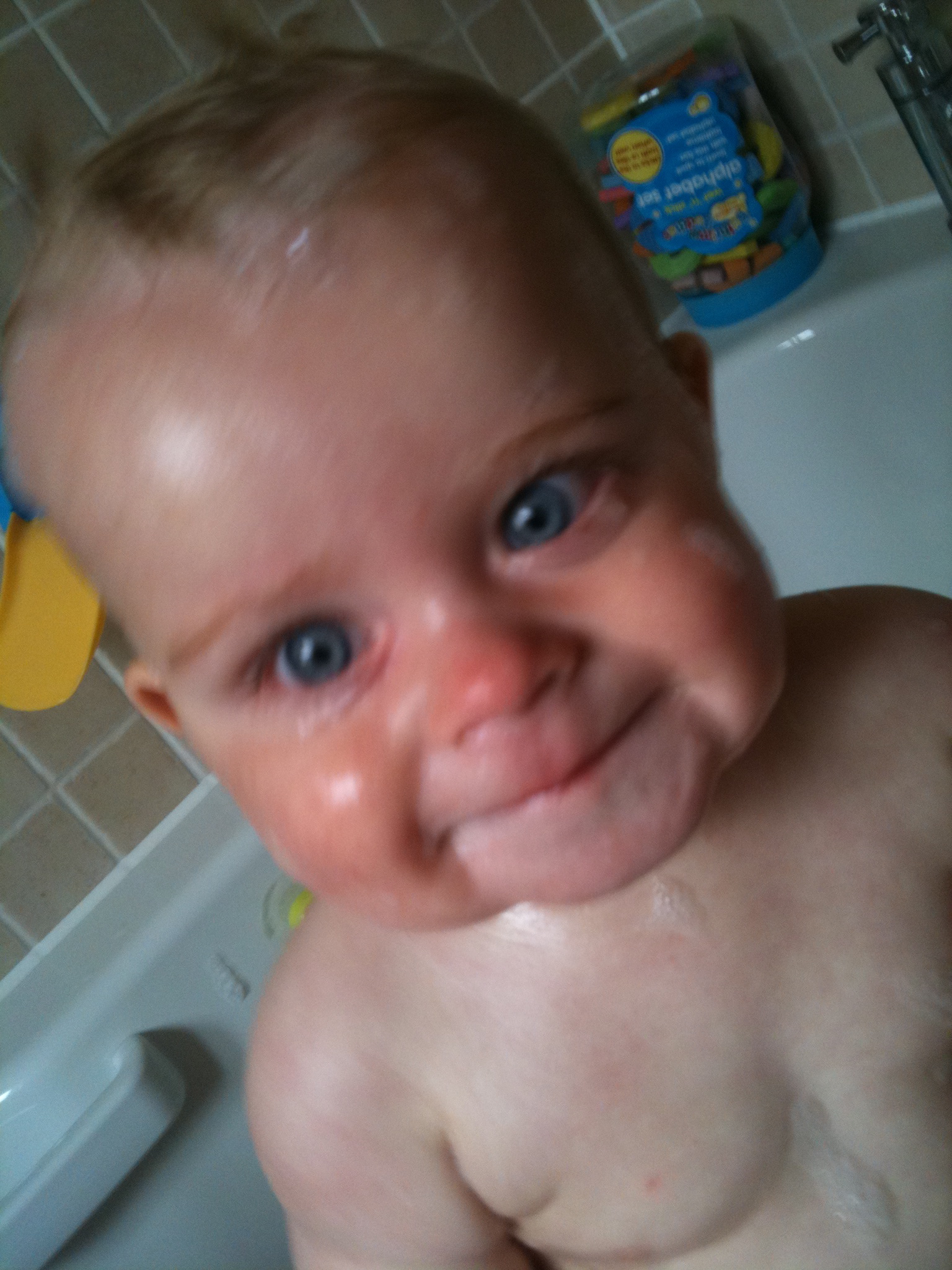 Bathing a newborn
Bathing a newborn can be very worrying! They are slippy little poppets when wet, but don't panic! Here are my top tips on bathing your newborn.
How to bath a baby…
When you bath your newborn, you may find it a little scary to handle your little one when they're all soapy and slippery, so you need to keep a good grip.
Most babies find the warm water very soothing as it reminds them of being in the womb. With any luck, bathtime will become one of the most enjoyable parts of your days together!
How often should I bath my baby?
Although some parents bath their babies every day, until yours is crawling around and getting into things, a daily bath isn't really necessary and really it's up to you and your baby really. Having said that – a bath is a great start to the bedtime routine and my two have had daily baths since they were born. A good bedtime routine means good sleep routines too!
Washing your babys' face frequently and thoroughly, cleaning their genital area after each nappy change, and cleaning off any other obvious muck, will be enough to keep them clean between baths if you don't want to bath them daily.
What should I use in the bath for my baby?
The overuse of strong cleansers and even tap water can damage the developing skin of newborns so you don't really need to use anything other than water.
However, if you like that baby clean smell, look for gentle pH neutral cleansers or mild soaps designed especially for babies, but use them sparingly in the first few weeks.
Where should I bath my baby?

You really don't need to buy a baby bath as many people suggest, alhtough it's totally up to you of course!
There are some fantastic money making products on the market, but really all you need is a bath support.
A bath support (pictured below and loved by my daughter Betsy) will give you and your

baby confidence at bath time, and enable you to wash them at ease!
Using a bath does require you to kneel or lean awkwardly over your baby so if this is uncomfortable (if you've had a  C-section) then it might make sense to use the kitchen sink until you feel better.
How do I bath my baby?
Bath your baby in 10 easy steps!
1. Assemble all necessary bath accessories.
2. Make sure the room is warm and the bath water is comfortably warm but not hot (about 38 degrees Centrigrade / 100.4 degrees Fahrenheit.) You can buy bath thermometers from most baby shops that show you when a bath is too cold or too hot.
ALWAYS check the water before putting your baby in!
 3. For newborns and babies up to six months old, fill the bath with about five inches of water, or enough to allow your baby to settle in the water with his shoulders well covered. *Never fill the bath more than waist-high (in sitting position) for older children.
4. Bring your baby to the bath area and undress them completely.
5. Gradually slip your baby into the bath, using one hand to support their neck and head. (This is where the bath support comes in mighty handy!)
6. You don't really need soap, but if you do use baby wash or soap, use it sparingly as you wash baby with your hand or a flannel or sponge from top to bottom, front to back.
Use a seperate flannel to clean eyes and face. As for your baby's genitals, a routine wash is all that is needed.
7. Rinse your baby thoroughly with a clean flannel.
8. Lift your baby out of the bath and wrap in a warm towel.
9. Lay your baby down in the towel and pat gently to dry. Ensure you dry inside the little chubby creases by their legs and arms to avoid skin getting dry or sore. If their skin is very dry, or if they have a bit of nappy rash, you may want to apply a mild moisturising lotion or baby oil after their bath and give a little baby massage.
10. Dress your baby in weather appropriate PJ's or clothes.
Bathing a newborn can be very worrying but hopefully these top tips will make it all a little less worrying and a magical, fun bath-time experience for you!