We love messy play – especially when the weather is a little blurghk like it is now, so this fun idea came out of leftovers from tea! (No don't worry – they'd not eaten it for tea, left it, then played with it! I'd just made too much spaghetti for their dinner, and rather than throw it away, I thought we'd pay with it!)
So – our sequin spaghetti was made easily by adding glitter and sequins to cold spaghetti. We popped the spaghetti on trays to make it easier (and less messy) to play with, then added glitter and sequins.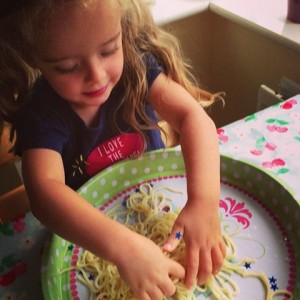 As B was adding the sequins she excitedly shouted "Mummy! We are making magic spells!" And we were! We were making magic! Magical memories made by playing with cold spaghetti and sequins. Simple, cheap and easy fun for toddlers!