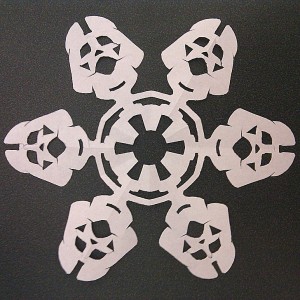 Christmas decoration making is one of my favourite actitivities to do with excited little ones over the festive season! From tree decorations, to making paper-chains, to window decorations – there's always something Christmassy to make with the littlies!
Basic snowflakes are one of the easiest (for scissor-abled littlies) to make, and many creative shapes can be achieved with a little imagination and design. for younger tots (like mine) you can cut out the snowflake design and let them decorate with glitter andpaint.
Messy fun that looks great hung up on windows or from cotton on a mobile!
For those wanting a little more of a challenge, I've put links to 'how to' pages that I've found that make amazing snowflakes! why not give them a try?
To make a basic snowflake you'll need:
White paper
Scissors
Paint, glue and glitter if decorating.
How to:
Cut the paper into a circle shape
Fold in half and half again (You should now have a quarter shape in your hand.)
Using scissors cut small segments into the quarter shape. Get creative! Smaller scissors make super designs easier to achieve.

You can cut out any pattern you like such as spikes,stars or a mixture of the two, but remember is that not to cut your quarter circle into bits! It won't work if you do that! You must leave at least some of the folded edge intact so your flake doesn't fall apart.

Decorate with glue and glitter, or paint and glitter
Tie cotton to one end and hang for a snowflake mobile, or using sticky tape, tape to windows to create a window display of snowflakes.
I love a challenge so hunted the internet for super-tricky snowflake designs and came across so many amazing snowflakes which I've shared with you below!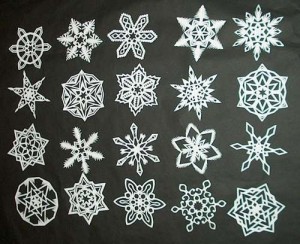 These six pointed snowflakes look fantastic! they are quite tricky to make, so adult help may be needed! To make these very cool and amazing six pointed snowflakes like the ones pictured left, go here!
My husband is a huge Star Wars fan, so no doubt we will be making some Star Wars snowflakes this Christmas for sure. To find out how to make them, go here.
The 3D snowflakes (pictured right,) are mighty tricky but look fabulous. For instructions on how to make those,
click here.