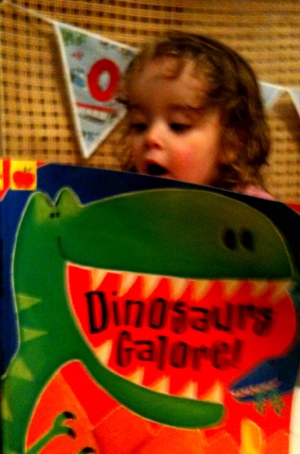 Little ones love bright, cheerful and colourful books with funny words to keep them interested. It's never too early to introduce books and enjoy story-telling with your littlies!
Here are our favourite funnies for mini bookworms…
If You're Happy and You Know It! by Jan Ormerod and Lindsay Gardiner
Small children (and older) will recognise the song on which it is based, but there are variations to make it a new experience.Its Involving for adults too, as you read and reread and try out all kinds of sound effects.
Pink Lemon by Herve Tullet
This lovely book is sturdy and lovely to handle and full of beautiful bright pictures. The concept is simplicity itself!
On the first page is a large rosy lemon and the words "Pink Lemon" followed by a question mark. Down the side of the right-hand page are three blocks of colour – blue, yellow and purple – allowing the child to match the right colour to the lemon.
This is much more than just a colour-matching book, it is a funny book that will create hours of fun creating your own ideas of sillyness- red banana anyone?
Pants by Giles Andreae and Nick Sharrat
You may do your best to ignore it or you may love it and laugh at it, but every every parent eventually has to accept that almost all small children go through a stage when pants, knickers, bottoms and poo are the most fascinating and funniest things in the world!
This bold picture book is fabulous for any toilet training tot, or any pant lover! A personal favourite of ours!

Snarlyhissopus by Alan MacDonald, illustrated by Louise Voce.
When the hippopotamus first arrives in the jungle, none of the other animals have ever seen anything like it, let alone know how to pronounce hippopotamus!
When the pelican flies off to tell the monkey, she says she has just seen a spottyhippomus.
The monkey tells the zebra that it is a woppabigmouse and the zebra tells the leopard that it is a dripaslobbermouth! (Or as Miss B says 'A happypopamum!')
A really wonderful book for children learning to speak, or those who can speak but find bigger words hard to manage!
Lullabyhullaballoo by Mick Inkpen
The sun is down, the moon is up, and it's past bedtime. But outside the castle there's an awful lot of noise! Will the princess ever get to sleep? With a fold out page on every spread your littly will discover a world of giants, knights and ghosts that are making too much noise!
A fabulous, funny book that helps littlies overcome their bedtime fears! A particular favourite of ours at bedtime with our toddlers shouting "Shhhhh!" at the noisy characters keeping the princess awake!