Every week I answer hundreds of questions online, covering everything from breastfeeding worries to napping nightmares.
Ask the expert!
Each week I'll be sharing one of the many questions I receive together with the answer, in hope it'll help lots of you who may be worrying about the same thing!
This week I've chosen a common problem that parents face: Fussy eating!
'I would love some great quick meal ideas and healthy snacks for my two-year-old daughter. She's really fussy and has a really sweet tooth.'
Firstly, try not to worry about the fussiness -it's normal! Learning about likes and dislikes is something all children go through! Instead of making it a stress, make it an adventure by trying new foods – let her choose interesting looking fruits when out shopping and experiment in the kitchen putting flavours together. Some little ones struggle trying new tastes and I really find the best way of dealing with this is to not make a big deal of it or fuss over them. Instead, give lots of praise for attempting something new and ignore any grumbles.
Toddler Meal and snack ideas
Every week I post a #TopToddlerTeas idea on social media, so pop on Twitter have a look at all the fun ideas I've posted so far. I love sharing fun but quick and easy lunches and teas for little ones!
Pasta is always a firm favourite with children and my two would eat it everyday if they could! It's really easy to prepare when time is short. They're favourite is my super easy Tuna Pasta.
Make your own sauces in bulk and mush down veggies (a great veggie hiding plan) to add to the sauces too, they'll freeze and be ready to defrost for a quick but healthy tea topped with cheese! (I do find topping any meal with cheese can help even the fussiest of eaters to try something new!)
Homemade pizzas are fun too. Little ones take great delight in creating their own shapes for the pizza base so invest in some fun cookie cutters. My two love making 'spacemen pizzas' and creating their own fabulous toppings. I serve them with 'space pasta', which is planet shaped pasta available from Asda. Sometimes themed meals encourage eating and if you have time you can get really creative with food.
Getting little ones involved in cooking, really encourages a love of food and a chance to experiment with flavours. Soups are easy to make if you have a blender and quiches are fun to make. Use ready roll pastry if time is short and make mini quiches in a muffin tray topped with fun pastry shapes – these are ideal for picnics and day trips out too!
For snacks, try making cheesy bread sticks which taste fab dipped in humous or cream cheese.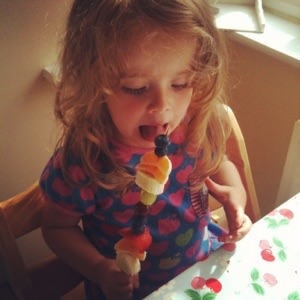 Fruit kebab sticks are fun and healthy snacks too, and in the summer you can pop them in the freezer for fruity frozen fun. Be careful with the sticks and always supervise your little girl eating these. Remember to cut grapes lengthways to avoid the risk of choking.
My frozen banana 'ice, ice baby' pops are popular with my two and their friends who come to play. They look like treats but are super healthy!
While sugary snacks are delicious and ok to have every now and again – try and limit them to special occasions and make alternative treats instead like our favourite 'ants on a log' which is quite simply a stick of celery chopped in half, spread with peanut butter and raisins scattered along the top!
I hope this has helped you along the happy eating path with your little girl and given you lots of ideas.
Good luck!
Fi xx