It's a common problem that I get asked for help with from hundreds of very tired and stressed parents every week ,and a problem I'm proud and happy to say I've helped hundreds of parents with over the years achieve a happy, healthy routine with their babies, thus creating fab sleepers through the night.
Not only my tailored techniques worked on other parents children, they have worked with my own two children.
My daughter, my son and all of my previous charges while working as a professional nanny in London were put into a four hour routine from birth – sound harsh? No, not really.  Routine works and it has done for many years for many parents, but – it's not everybody's cup of tea and that's fine.
As with all things in raising littlies, it's about what works for you as a parent, what makes you feel happy and what makes your little one happy.
Childcare is Fun is all about sharing qualified, professional advice together with 2o years experience of techniques that work, have worked and do work for all the parents (their children) who have approached me for help.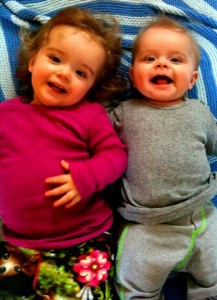 Routine is good…
Now some health visitors and midwives tell new mothers to feed on demand (mine didn't – she loved my routine!)
This is a guideline that has changed  frequently over the past twenty years of my career together with other conflicting ideas of baby and childcare techniques.
Of course it's each to their own when dealing with very small babies, and I'm not about to start preaching that feeding demand is wrong, because it's all about personal preference. However, I will say, in my professional and parental opinion, it really doesn't help when trying to establish a routine.
The children I have looked after in the past, and my own daughter and son, have all picked up the four-hour pattern after only two days of life, showing that it works! They are not pushed into the routine, simply guided and helped to achieve a regular feeding and sleeping pattern.
Betsy (my little girl) went from a low birth weight, bottom of the centile baby, to the top in only two months! I believe (as did my HV) that routine was the key eliment in this success! When a baby feeds four-hourly, it takes lots on board, is satisfied and feels fuller for longer until the next feed. Many will disagree with this, suggesting that babies need to feed little and often, but it is you as a mother who should make the decision what is best for you and your baby. As long as your baby is feeding every 3.5-4 hours that is following correct, healthy *guidelines.
Babies that feed on demand (eating little and often) are often hungrier quicker, even when they really should be sleeping.  Therefore they often get stressed, upset, and sometimes don't feed as they're too tired.  Using the feed on demand technique, a routine is unlikely to form until much, much later when the demand feeding has been dropped. Again – this is entirely your own informed choice as a parent. What works for one, may not work for another which is why this is merely a guide. I offer tailormade plans for FREE via the parent advice service.
A baby can be easily put into a routine which will ensure happiness for you both, develop a healthy appetite and ensure good strong development. However, it's not always straightforward and there may be other problems that prevent a routine being followed such as *underlying health issues.
*If there are underlying health issues, contact a health professional before attempting my routine or sleep training.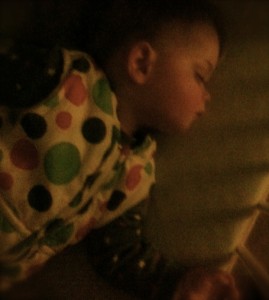 Sleep training…
Day time naps
Some parents think that if a baby doesn't sleep during the day that they will be more tired at night and thus sleep longer and better – no! This is wrong, in fact the total opposite happens!
Babies that dont have regular naps during the day are grouchy, grumbly and overtired, therefore waking lots in the night.
Getting your child into good sleep habits can only really be obtained after a good daily routine is established. Without a good daily routine (and this goes for a baby or child of any age) getting them to sleep through the night is near impossible.
Once you have established a good daily routine, only then can you use the sleep training technique succesfully.
A good bedtime routine
Getting into a good routine doesn't end at bedtime, if anything, it starts at bedtime! It's important to get into a good bedtime routine from a very early age- start as you mean to go on!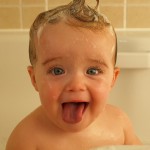 Bedtime should start the minute you are upstairs getting your child ready to go to bed.
Start with a nice bath! Have lots of fun in the bath with toys, bubbles and singing time, even from a very young age this is important! Sing to your baby in the bath, trickle water over them and make fun sounds. The longer, more fun the bath, the better!
You can even try using some lavender drops or bedtime bath bubbles to encourage relaxation.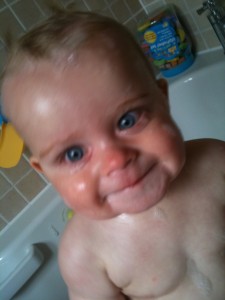 Always prepare your older child that bathtime is nearly over by giving a two minute warning.  Sounds silly? Not at all – this is usually where lots of tantrums start and children who don't have time to get used to the idea that something fun is about to end, can break-down into floods of tears which makes the bedtime- a nightmare time!
After their bath, dry your child with a nice big fluffy towel- making it lots of fun! Make sure your child's pyjamas are in the bathroom or close by and dress your child, talking all the time about snuggly bedtime, or the bedtime book you are going to read together.
Keep using the word bedtime, or sleepy time to encourage the idea that this is in fact bedtime – not playtime!
In their bedroom, snuggle together with a book (babies will usually have their bedtime milk/feed at this point.) After the story get your child into bed, tuck them in and say goodnight.
Older children
At this point with older children DO NOT enter into a conversation about another story/ I need a drink/ I need a wee/ I want to play with my toys!
Simply ignore any demands  and simply say it's bedtime.  If this is where the problems usually start this is where we bring in the control crying technique.
Some parents are uncomfortable with the use of the controlled crying technique, but as a professional Nursery nurse who has over 20 years experience, I have to say if it is used properly and not abused (i.e leaving a child in distress for long periods of time) it works wonders and is safe to use. (You can read my post on control crying research here.)
Controlled crying…

This technique teaches babies and toddlers to fall asleep independently.  Controlled crying means checking on your child at set intervals, increasing the time between visits until they fall asleep.
Put your baby into their cot (or bed if an older child) and leave the room. Return after one minute (if they are still crying) and gently whisper 'sleepy time' stroking their tummy for two minutes, then leave. The idea is not for you to get your child back to sleep by stroking them to sleep, but to reassure yourself and your baby that all is well.
Gradually increase the interval between visits by two minutes each time, starting with two minutes and going up to a maximum of 15 minutes. Repeat the checking every 10 minutes until your child quietens and goes to sleep. Apply this technique at bedtime and repeat it every time the child wakes up.
Yes – it's exhausting, but the method works quickly! In most cases parents informed me their child was in a good sleep routine using this technique within one week. The best case was within one night!
*Do not use this technique if your child is unwell, teething or genuinly upset because of a bad dream or night terror.
There are many other sleep training techniques that I offer to parents. Please get in touch for details.
Using these sleep training techniques (if followed correctly) should leave you with a happy sleeper not a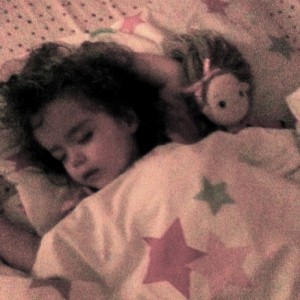 nightmare napper within only a few days.
I have received in the past 3 months, over 300 emails thanking me for my help in solving childcare problems. The majority of these problems were sleep related.
If you would like a FREE tailor-made sleep plan and routine for your child, get in touch via the contact form here.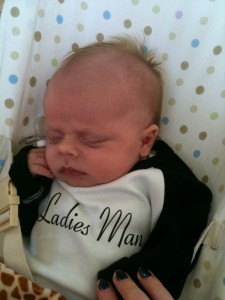 My top tips to happy sleepers
1- Check your childs sleeping area is comfortable, at the right temperature (not too hot or too cold) and that their room is a happy place to sleep.
2- Ensure your child is in comfortable clothing – try a sleeping bag to avoid kicking off of blankets in the night – a common problem of waking! Socks! I see this repeated everywhere yet so many parents don't realise that babies get very cold feet- this can wake them up! Pop some socks over their pyjamas!
3- Hunger – Ensure your baby child has had a good last meal/feed (older children good portion at tea and light snack and drink before bed, babies good milk feed/formula portion.)
4- Good bedtime routine -Bath, Book, milk, bed!
5 – Always comfort night terrors – Night terrors come and go. It's essential to always comfort a child who has had a bad dream or night terror, but to avoid getting them out of their bed or room. Simply reassure them, a nice cuddle then back to sleep. Avoid night terrors by avoiding Childrens scary books or TV programs before bed and look around the room for things that may trigger worries such as dressing gowns hanging on doors, open cupboards, (remember when you were little- the things that frightened you?)
6- Make bedtime a nice time not a grumpy 'I don't want to go to bed' time
*NHS guidelines 2011/2012
Helping you make more informed choices with our private health care.